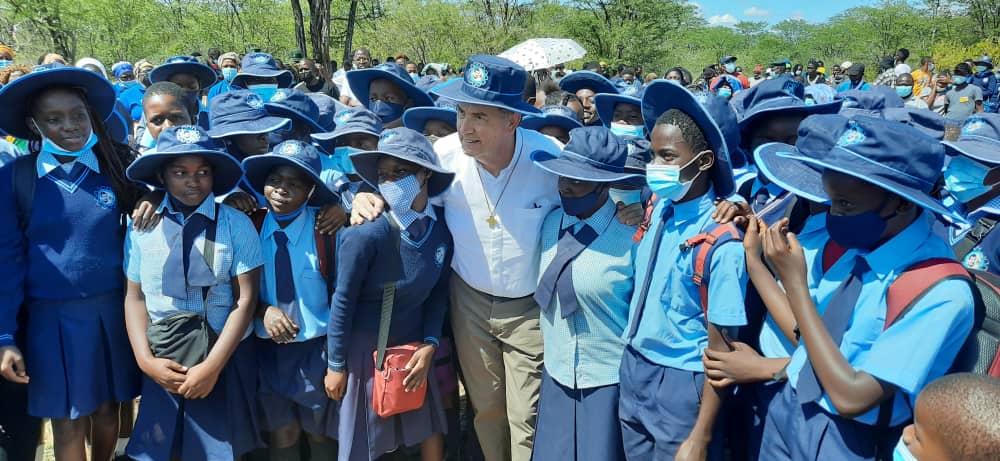 Salesians of Don Bosco Celebrate 40 yearns of their work in Zambia
(ANS – Rome) – Just a few days have passed since the conclusion of the Animation Visit that the Rector Major made to the "Mary Help of Christians" Vice-Province of Zambia-Malawi-Zimbabwe-Namibia (ZMB), and in the soul of Fr Ángel Fernández Artime the echo of all the experiences he lived still resounds strongly. "My heart is full of reasons to give thanks," he said yesterday, Monday, May 2, in the "Salesian goodnight" to the community at Salesian Headquarters.
"I came back really very, very happy!" he said. "Almost six years after my visit to Malawi and Zambia, I was able to see how the Province continues to make a beautiful charismatic journey, of true Salesian mission, with the poorest. I found so much serenity, a well harmonized Council of the Vice-Province and a Vice-Province that is blessed with so many vocations."
Recalling the recent events of his visit to the ZMB Vice-Province – embarked upon in the company of the Councilor for the Africa-Madagascar Region, Fr Alphonse Owoudou – the 10th Successor of Don Bosco spoke of the large number of meetings with the young people of the Salesian Youth Movement, with about 200 participants both in Hwange, Zimbabwe and in Kabwe, Zambia. From his stop in Hwange he also highlighted the gathering with members of the Salesian Family, and in particular the witness of faith and spiritual vitality offered by the Salesian Cooperators who had come to that destination from Namibia – having traveled 800 km – and from Malawi – about 1,200 km away.
A worthy heir of Don Bosco, his thoughts soon turned to the many children and young people he met: "Young people of great maturity, of a strong spiritual beauty… I was struck to find them at 7 am praying the Rosary!" he exclaimed. "And at the same time, young people with a contagious sympathy, cordial and full of affection."
Among all the young people he met, the Rector Major wanted to mention one, for an episode that has remained indelibly in his heart: during his three-day stay in Hwange he was always greeted by a 12-year-old boy who, along with many others like him, dressed very shabbily, was not very clean and had no shoes. On the last day of his stay there, when Fr Á.F. Artime was taking his leave of all those present, the boy took his hand and handed over what was meant to be a tribute: a simple stone picked up from the ground, and a sheet of paper accompanying it, with the words: "My name is Samuel" written on it.
The Rector Major, moved, thanked him, and took his stone and the paper with him, assuring the boy he would keep them in his office, even once transferred to Turin.
"Samuel's face still moves me. What must this boy have felt to make him think he had to pay me a tribute, even at the cost of taking a simple stone, having nothing else to give? This really speaks to us of how we, in our educational-evangelizing mission, can touch the hearts of children, sometimes in ways we don't even know."
For this reason, reflecting on the Vice-Province's future, also in light of the many Salesians currently in initial formation, the Rector Major shared how it is necessary to continue to discern where it will be possible to open new communities, keeping in mind what the real needs are and the possibilities for developing the charism, and maintaining and cultivating the missionary spirit and attention to the poorest already present.
Finally, the interview given by the Rector Major to Fr Christopher Kunda, Provincial Delegate for Youth Ministry of ZMB, before his return to Rome, is also worth mentioning. On that occasion Fr Á.F. Artime spoke further about the life and future of the Vice-Province: "I have found a lot of life: missionary life, a life shared with young people, a desire to be close to the poor, serenity among my confreres, affection among the young people… This is a time of God's grace for this Vice-Province. Forty years after its first presence, almost 25 years after the birth of the Vice-Province, it can give courageous, prophetic choices, identified with foresight."
"It would be a shame to live tranquilly: we must live in peace, but with the fire of desire, like Don Bosco, like St. Francis Xavier, with the will to arrive there where they are still awaiting us," he added further.
And, to a question about himself, he concluded: "My strength is that I continue to love young people profoundly, I feel very good among them, I am in love with God and Jesus and I am happy with my life. This is me."