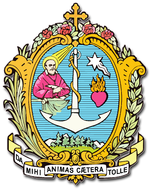 Salesians of Don Bosco – ZMB Vice Province
1.1 Who is Don Bosco
John Bosco popularly known as Don Bosco was born on 16th August, 1815, and died on 31st January 1888. He was an Italian Roman Catholic priest, educator, and writer of the 19th century. While working in Turin, he dedicated his life to the betterment and education of the poor and disadvantaged youth. Inspired by the goodness and zeal of St. Francis de Sales, Don Bosco formed a religious congregation in 1859 and called them society of St. Francis de Sales who are now popularly known as Salesians of Don Bosco. He gave to the Salesians a programme of life in the motto: Damihi Animas, cetera tolle, which means give me souls and take the rest. This searching for souls (salvation of the young person) and serving is done with love, kindness and apostolic enthusiasm. Such a style of life and conduct is called the Salesian spirit. It is summoned up and centered in pastoral charity. He developed the method of teaching based on love rather than punishment, a method that is known as Preventive System.
In addition, Don Bosco was a passionate devotee of Mary, mother of Jesus, under the title of Mary Help of Christians. In 1871, Don Bosco together with Maria Domenica Mazzarello founded a religious congregation of sisters under the name of the Institute of the Daughters of Mary Help of Christians. According to his mind, the sisters would dedicate themselves to do for girls what the Salesians were doing for boys.
To make his spirituality spread and capture to all people, Don Bosco also founded a movement of laity, the Association of Salesian Cooperators in 1876. These are mostly lay people who work for poor young people, but do not join a religious order. Finally, he also formed the group of those people who passed through his education system, and gave them the name of Salesian Past pupils. In short Don Bosco dedicated his entire life for the salvation of the young especially those who are poor, abandoned, and in danger.
1.2 Who are the Salesians of Don Bosco
In simple terms, Salesians of Don Bosco is the religious order founded by Don Bosco and follows his spirit which is called Salesian spirit. With Don Bosco, Salesians reaffirm their preference for the young who are poor, abandoned, and in danger, those who have greater need of love and evangelization. Salesians' apostolic activity is carried out in a variety way, which depend in the first place upon the actual needs of those for whom they are working for. Salesians give practical expression to the redeeming love of Christ by organizing activities and works of an educational and pastoral nature designed to meet the need of the neighborhood and of the church. They carry out the mission chiefly in such works and activities as make possible the human and Christian education of the young, such as oratories and youth centers, schools and technical institutes, boarding establishments and houses for the young people in difficulties. Salesians' mission of educating the young is based entirely on reason, religion and loving kindness. This type of educational system is called the preventive system.
Finally, Salesian Congregation is made up of both priests, and Lay brothers (coadjutors) who complement each other as brothers in living out the same mission and vocation. Salesians fulfill their mission of leading and serving the souls of the young people by living and working together as brothers in the communities.
1.3 Project in Africa
Although Don Bosco did not go for missions himself, the idea of carrying his mission to other parts of the world was deeply in him. At the same time the idea of evangelizing in Africa was in his heart. In 1886, he said: "missions especially those in Africa, are very dear to me…..if I were young, I would have taken Don Rua with me and I would say to him: 'come, let us go to the cape of good hope….."[1] It was his successors Don Rua and later Don Albera who realized his dreams. In 1891, Salesians came to Algeria, in 1894 to Tunisia, and in 1896 to Egypt and in South Africa.  Later in late seventies, Salesians were present in 13 countries.
The project Africa can be said to be one of the fruits of General Chapter 21 which was in 1978. During this chapter, a delegate from Central African Province- Fr. Jacques Ntamitalizo, gave a motion to intensify the Salesian missionary effort in Africa. This request impressed all the present delegates. In addition, Fr. E. Vigano by then the rector Major welcomed this request enthusiastically and explained its importance both for the continent of Africa and for the congregation. In summary this is how project in Africa was born.[2] Upon recognizing the importance of the project, the rector Major supported whole heartedly, and following the Chapter, he prepared two journeys to Africa in order to see the situation and to talk with the Salesian working there already. After these two journeys he wrote a letter entitled "Our African Commitment" (ASC 297) which can be considered to be an official manifesto for Project Africa.[3] In this letter the rector major explained to the Salesian family the motives, criteria and different aspects of the project. In order to speed up the preparation, the special commission was called in order to prepare recommendations and detailed plan for launching the missionary project in Africa. Decisions of the Chapter regarding 'project Africa' were very positively received by the Vatican which in large measure was interested in the development of missions in Africa and helped to contact local African Bishops. The commission's proposals were analyzed by General Council and upon approving them by the end of 1978, African countries were allocated to specified provinces which agreed to organize missionary expeditions. Four polish provinces were entrusted with evangelization in Zambia and a few years later in Uganda.
1.4 The presence of Salesians in Zambia
In collaboration with the four provincials of polish provinces, Fr. Augustyn Dziedziel, a special delegate of the rector Major for Poland was given a responsibility to organize a Salesian presence in Zambia. After finding the Salesians who could take up the challenge of going as missionaries in Zambia, by the end of 1981, Fr. Kazimierz Cichecki was appointed as the head of the group who would come to Zambia.
In 1981, those who volunteered to be missionaries to Zambia had to learn English language in London where they all enrolled at the Hammersmith College. In 1982, the first group of missionaries left Poland for Italy to attend missionary course and to attend the traditional ceremony of sending out the missionary expeditions. After receiving the missionary crosses, they left Rome for Lusaka-Zambia on 11th October, 1982. The following day, they landed in Lusaka and were welcomed and taken care by Fr. Vincent Cichecki SJ, the young brother to Fr. Casimir Cichecki Sdb. They were all accommodated at the Jesuit novitiate. At the end of October they went to Ilondola mission to learn local language (Ici-Bemba).
In 1983, they all left Ilondola for different missions. The following are the places which they were all assigned for missionary works: Frs. Bem, Dziatkiewicz and Molendowski were assigned to Chingola. Frs. Cichecki, ojczyk and Szmit were assigned to Luwingu. Frs. Bernas, Juszczyk and Peter Boryczka were assigned to Kazembe. Frs. Karczewski and Sak went to Maheba Camp for refugees from Angola, in the diocese of Solwezi. Both of them were missionaries from Brazil. A seminarian Stanislaw Jagodzinski went to Chilubula for English studies. After a year later he went to London to England for priesthood studies and after his ordination he went came back to Zambia.
1.5 The growth and Works of Salesians in Zambia
The first Salesian presence was Luwingu. It was a first parish to be taken by Salesians. Next was Kazembe and Chingola. By the end of 1983, other parishes like Sts. Peter and Paul Parish and Kacema Musuma Parish in Chingola and Kazembe parish were all run fully by Salesians. Furthermore, Luwingu, Chingola, and Kazembe were the first Salesian houses canonically erected. All these presences belonged to the Warsaw province (PLE) of which Zambia was decreed a delegation and Fr. Cichecki was officially appointed as delegate of the provincial of PLE, Fr. Wojciech Szulczynski.
However, things in Maheba Camp were not good for Salesians, due to some misunderstandings such that, the superiors decided to withdraw from it. In 1984, Salesians opened new presence in Lusaka. In 1986, the construction of Salesian headquarter house in Lusaka was finished. Meantime in 1984 the second group of Salesians from Poland arrived; 5 priests, 2 seminarians and one lay volunteer. In 1985 another group of Salesians from Poland came; 4priests and 5 seminarians. Almost every year the new missionary group arrived and the work also was expanding. In 1986, they reopened Ipusukilo parish in Kasama, then took over Nsakaluba parish and at the end of the same year they opened another parish in Kabwe (St. Mary's). Two years later; Bauleni parish in Lusaka was entrusted to Salesians.
'Although involved in parish work, they had never forgotten their Salesian mission for the young people. In 1985, they started building small Carpentry school in Kazembe and it was officially opened in 1987. In Ipusukilo, the gardening and agriculture training Centre was established. In Nsakaluba, a few small projects for boys and girls were organized: tailoring, knitting, cooking and carpentry. Nurseries for little children were also opened and run in Chingola, Nsakaluba and Kazembe. Apart from these small schemes, they decided to establish at least two bigger projects; in Lufubu and Chingola.' (Salesian Bulletin-Zambia Vol. 1 No.1)
In 1889, Fr. Joseph Ojczyk, Fr. Joseph Bem and Br. Thomas Skolanski settled in Lufubu, thus opening a new Salesian presence. In Chingola, the project was meant as a trade school and the construction work was coordinated by Fr. Cichecki and Br. Orysiuk. During that time, they also undertook two other major projects in Lusaka; Teresianium printing press in 1988 and the catholic book shop in 1990. The Teresianum printing press was established by Sisters of St. Peter Claver. After taking over from them, Salesians opened a typographic school, offering two years course for the young boys and girls. The first Zambian Salesian Br. Sylvester Makumba made his first religious profession on 1st January, 1989.
1.6 The Consolidation and international expansion (1990-1999)
---
[1] MB 18, p. 142
[2] PA 2, P. 41
[3] PAS 4, P.28