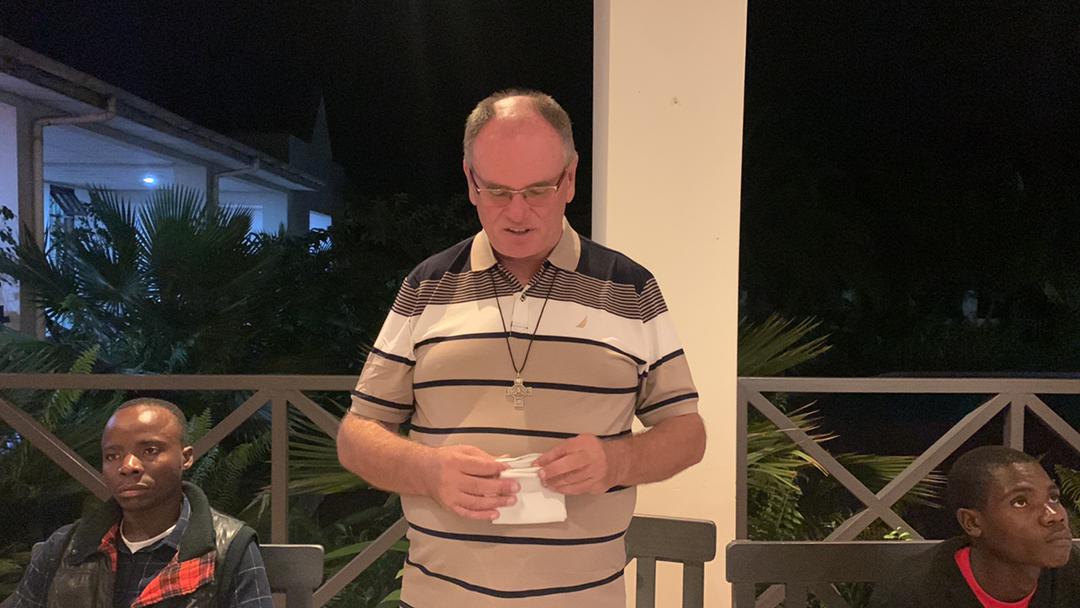 Synopsis
58 years of God's abundant blessing on His son!
March 9th, 2022 marked a milestone in the Rector's life, Fr. Aksamit Leszek Sdb, who turned 58 years old. Beautiful birthday celebrations were held at Don Bosco Technical Secondary School and College, and the Community of Salesians of Don Bosco with representation from Salesian Cooperators.
These factions of the centre, expressed how Fr Leszek Sdb, has impacted their lives individually and severally;
1. The Technical Secondary School
2. The Technical College
3. The Aspirants (Formation House of the Sdb), as eloquently expressed below:
The Technical Secondary School
Today we gather here to celebrate a person that has not only made it possible for us to have a good school but has also imparted moral values in us. We thank God for giving you knowledge and wisdom of understanding. Your sermons are so touching and have inspired many of us in school to always strive hard to do the will of God, no matter how little. Father, as you mark your 58th birthday, we wish you good health, happiness, and lots of beautiful things in this world and hereafter.Thank you for your concern over our spiritual life. You are an exemplary and visionary church leader who has dedicated your life to Christ and His mission to win more souls into the kingdom of God. Your messages are always supported by good Bible quotations which are clear and understandable to the school. As you celebrate your special day, may the good Lord shower you with more graces and blessings!As you attain the age of 58, may God continue to increase you in knowledge and wisdom. May He grant you good health and strength to deliver His word to the people according to his will. Have a memorable birthday!We pray the good Lord continues to give you victory over all the challenges of life. The whole school will continue to follow the light you have shown to us and made us believe in. You are a blessing not only to us but to the coming generations. Have a wonderful birthday!May the Lord's blessings continue to be with you and your family, and may His words continue to move you from strength to strength. I wish you all the best and many more birthdays to come. Happy birthday Father
The Technical College
What is well rooted, can not be pulled down, and, what is firmly rooted can not slip loose, it will be honoured from generation to generation.
According to Psalms 139:1-5, it has been said that, the Lord has searched you, He knows you when you sit and when you rise, He perceives your thoughts from afar, He discerns your going out and your lying down, He is familiar with all your ways, before a word is on your tongue the Lord knows it completely.
It is yet with great pleasure and honour to celebrate the birthday of a galant physically old yet young at heart, one who is to remain a youth forever filled with so much love, wisdom and compassion. His smile is so beautiful and cool, but, at the same time hot like a blast furnace, as it manages to melt hearts made out of iron. We are indeed a blessed generation as God gave us a gem, which he only gives once in a thousand years.
Your presence makes this place conducive for everyone, we love you and we are really proud and happy to have you Fr. We love you with all our hearts, we love you and wish you more of God's blessings and favour in all your endeavours. Happy birthday and we wish you many more happy returns.
A lot has been said already though they say, "AGE is just a number, but, through wisdom your days will be many, and years will be added to your life".
May God bless you, as you are already a blessing to us.
The Aspirants (Sdb Community)
"The Rector of Chingola Don Bosco Community, Fr. Leszek Aksamit Sdb, Fr. Eugene Sdb: Vice Rector, Fr. Gabriel Mwenya Sdb: School and College Principal, Salesian Cooperators, Bro Olek Sdb: Vice Cordinator – Oratory, Mr Adslas Mangena: ICDL Teacher, Fellow Aspirants.
I would like to say thank you for giving me this opportunity to stand in front of you on behalf of my brothers. Father, you are blessed and the love and kindness you show to everyone is really something else.
God chose you when you were in your mother's womb and He gave you your name then. He made your mouth like a sharp sword. In the shadow of His wings, He hid you. He made you a polished arrow in His quiver and He hid you.
And he said to you, "You are my servant Leszek, in whom I will be glorified". May He continue to protect you in your entire life.
When a woman bears a son, she brings joy and happiness in the family, so we are also happy because you have brought us together to celebrate your birthday which will forever have an impact in our lives.
We would like to appreciate you in everything you offer the Community especially the orphans and the young people that are lacking in financial help.
We are wishing you a fantastic birthday.
Let me quote from the Bible, "I am, because you are, you are because I am", end of quote. So together, we are.
Happy Birthday Fr. Leszek and we wish you many more happy returns.
Thank you and may God continue blessing you.