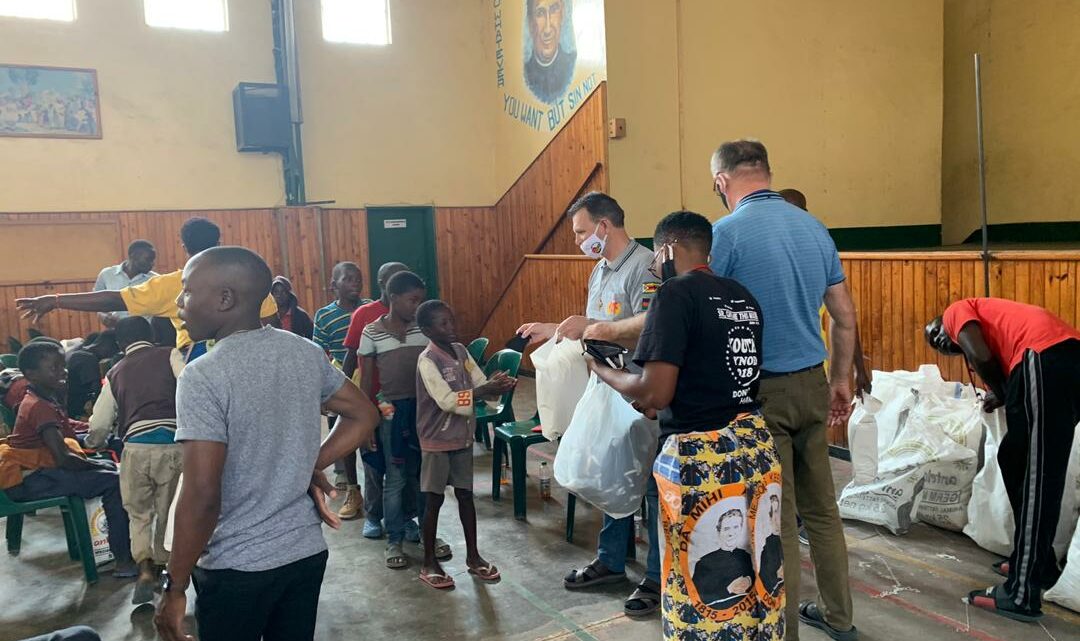 SUPPORT FOR STREET CHILDREN CONTINUES AT DON BOSCO
"Whoever receives one such child in my name receives me."
On the 8th of August, 2020, in the presence of the provincial superior of the ZMB Vice Province of the Salesians of Don Bosco, Fr. Christopher Rychcik. The community spent the day with the children from the streets. The day was characterized by some faith lessons, games, hygiene (personal clean up) and lunch.
The highpoint of the day was the presentation of gifts by Fr. Christopher Rychcik to the young boys and girls. The gifts were made possible through the kind support and sponsorship of the Polish Episcopal Conference. The gifts included : bags of mealie meal (Zambia's staple food) and some face masks for Covid 19 prevention. Each child received an individual humper.
The mission that is taking place at Don Bosco Chingola is not unlike other Salesian presences, it is the same outpouring of the heart of Don Bosco, the great educator and evangeliser of the young after the heart of Jesus the Good Shepherd. Indeed, the predilection and preference is for the poorest.
It is a cliché to claim that the reality of street children is persistent. It is a fruit of varying seeds; socio-economic hardships, abuse, broken families and peer pressure. And even though prevention is better than cure, those young people already on the streets need opportunities for self-improvement and human development. It is to this challenge that the Salesians of Don Bosco have endeavoured to hastily respond.
The ministry to the young at risk is accomplished principally through God's grace and procedurally in 2 major steps
Educative Encounters between the children on the street and the Salesian family.
Formation programs the children are given opportunities to participate in programs that build up their human and spiritual qualities.
Nevertheless, it is not all roses at Don Bosco since some of the young people have challenges adapting to a schedule of prayer, study, work and play. They are vehemently tempted to return to the 'street life'. With faith, the Salesians and collaborators walk side by side with them. They apply the preventive system in educating and evangelising these little lovely 'rascals'.
We pray for our benefactors , especially the Episcopal Conference of Poland who made this day possible through their generous support.